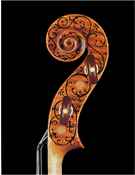 Antonio Capela was born in 1932, in Anta, Portugal as the eldest son of Domingo Capela, a world renown violin maker and repairer. Antonio received a scholarship in 1961 while learning manual skills from his father, and went to work under the well known French lutier Etienne Vatelot. After a four month stay in Mirecourt, he studied at the International School of Violin Making in Cremona, under the guidance of Sgarabotto and Sacconi from 1964 to 1965. His violins won first prize in 1965 and 1969 in Cremona and in 1972 in Poznan, Poland.
His perspective on ideas and craftmanship has been broadened by his frequent contact with craftsmen in other countries. He has served as a judge for many international competitions, and he has been invited as a guest of honor to nations such as Japan and Russia. As he inherited his talent and training from his father, he carries on the tradition by teaching his son Joaquim;further strengthening the deeply rooted instrument making tradition, initiated by Domingo Capela.
Antonio's message about violin making: For me, it was a pleasure and a challenge to make a copy of The "Hellier"violin, specially for two reasons: Only a few violinmakers have done it. The model itself touches me by its beauty and aesthetic expression.