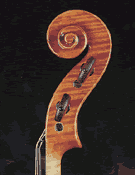 Giovanni Battista Morassi was born in July, 1934 at Arta in Udine, Italy. Given his family background in which his maternal grandfather operated a lumbermill and his maternal uncle made violins, it seemed that his future in violin making was inevitable. Urged by his teacher at his vocational school and his father's friend, and with a four-year scholarship from the Udine Chamber of Commerce, Industry and Agriculture, he entered the International School of Violin Making at Cremona in 1955. He graduated from the International School of Violin Making in 1971 and maintained that Status until his voluntary retirement in 1983.
His violins won Italian and international prizes and are used by famous orchestra violinists and soloists. He contributed greatly to the education of many successful Italian and foreign students at Cremona. He judges numerous domestic and foreign music contests. His string instruments are based on either the classical Cremonese school like Stradivari and Guarneri del Gesu in particular, or on his personal model. He also devotes himself to the restoration of old instruments.
His message: The violins that are perfect in their artistic, and cultured aspects are produced when a right balance between wood technology and the makers' powerful and individualistic varnish is met.