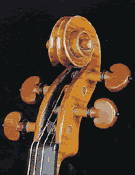 Sergio Peresson was born in 1913, in Udine, Italy. After the Second World War, he moved to Venezuela where he mainly repaired violins for the Venezuelan Symphony. In the early 1960,s he moved his domicile to the United States where he began making violins on his own as well as doing repairs. By the time of his death in 1991, at the age of 78, a number of his instruments were owned by illustrious players, including soloists around the globe.
Although his instruments sound like those of the Stradivarius or Guarnerius instruments. Peresson likes to think there is also a distinct Peresson sound. He firmly believes that important elements in any musical instrument are a beautiful and rich tone, carring or projecting power, and being responsive to the fingers of the player. He likens violin making to violin playing, in that with both, the genuinely great can be distinguished easily from the good.
Mrs. Peresson sends a message on her late husband's behalf: My instruments are my own model, and in my opinion the principal qualities of an ideal violin, viola or violincello are beauty, quality, eveness and clarity of tone, rich sonority, powerful projection, and quick and easy response.